If your into garages, gadgets, or mechanical things… you've got to watch this.
If you plan on doing something similar for your garage, be sure to consult a structural engineer and properly calculate loads to ensure safety.
As a woodworker, you gotta have the ability to haul lumber and equipment.  I don't have a truck.  So, I did the next best thing and bought a trailer.  It's an awesome trailer.  It can tip pivot (for loading a lawn tractor) and its made from lightweight aluminum.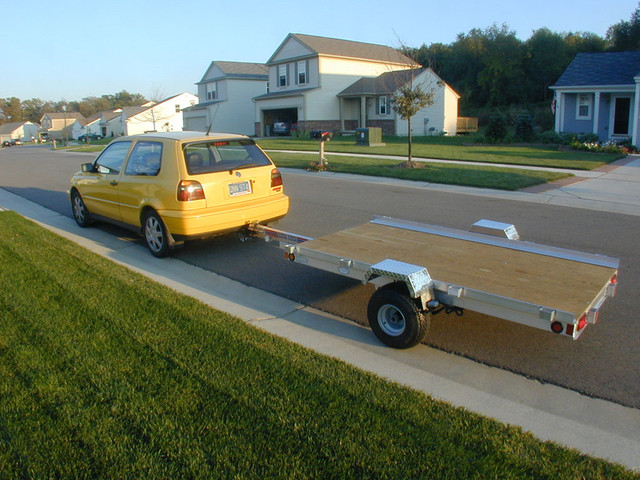 My wife was surprised by my unannounced quick purchase.  She didn't see the value in spending $750 for this behemoth.  Thankfully, she has realized it's value many times over… since being used on many projects around the house.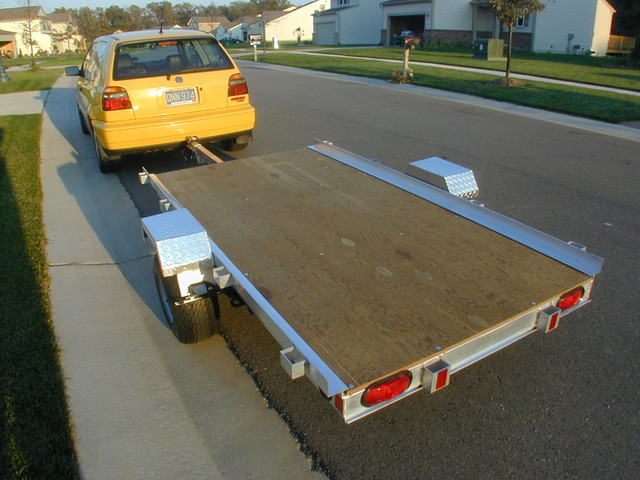 My Volkswagen Golf GTI VR6 isn't known as a vehicle for hooking a trailer to, but after a fair bit of effort, I was able to attach a trailer hitch.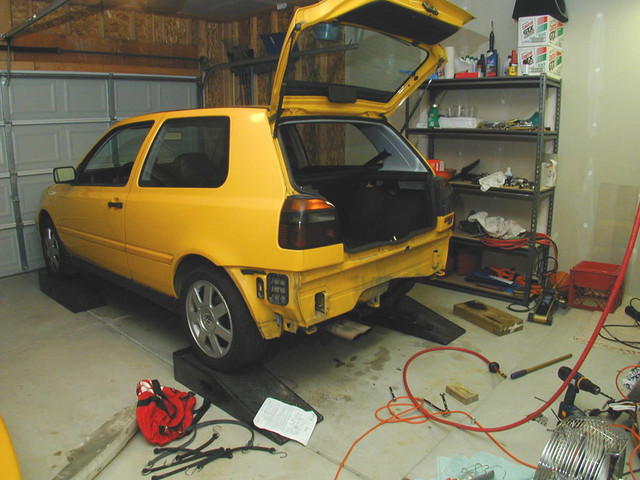 For all its benefits, the trailer did cause a very big problem.  Where to put it?  I didn't want to waste half my garage just to keep my trailer.  Actually, I already had a plan before buying it.  I had decided to hoist the trailer onto my garage ceiling when not in use.  So once I had purchased the trailer… I was committed to engineering a working trailer lift / hoist solution.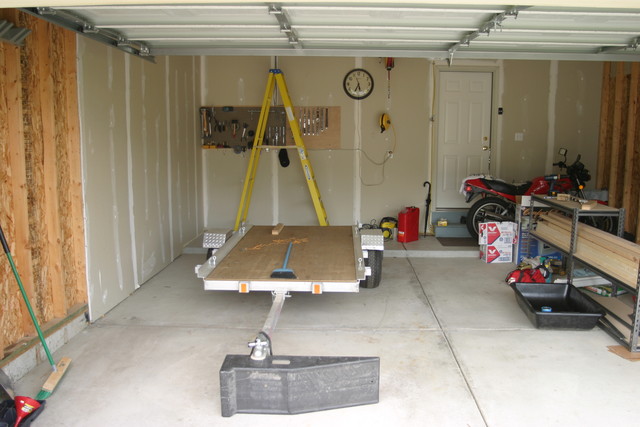 Initially I contemplated a manual cranking hoist (as you can see in this early sketch), but quickly changed my mind to a motorized hoist.
It is important to note the differences between a hoist and a winch:
A hoist is for lifting and a winch is for pulling.
A Winch is geared for pulling a load on a relatively level surface. A winch uses a dynamic brake that must slide.
A Hoist is geared to lift (dead weight) and has a locking brake that can support a "hanging" load.
If a Hoist can lift (dead weight) 250 lbs., then it may be capable of pulling 1000 lbs rolling weight across a hard packed surface. If a Winch can pull 1000 lbs. across a hard packed surface, it may only have the capacity to support 100 lbs. (dead weight) because the winch employs a different braking system than that of a hoist.
A Hoist is used for lifting and supporting "dead weight".
A Winch is used for pulling (moving rolling weight).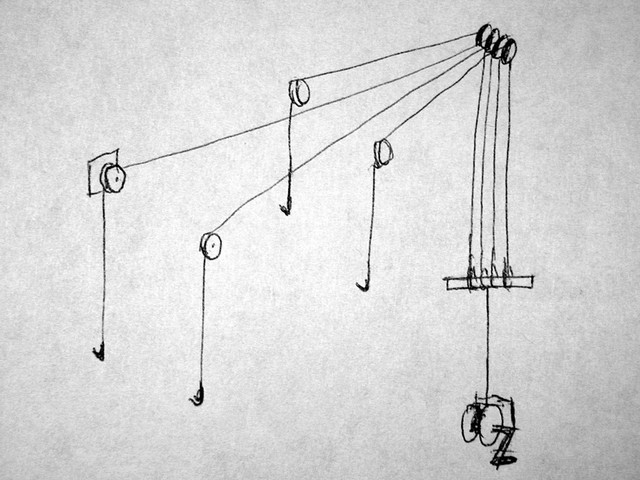 This is the space above the garage ceiling.  I had to customize a mechanical solution that would fit in this space.  Let the engineering begin!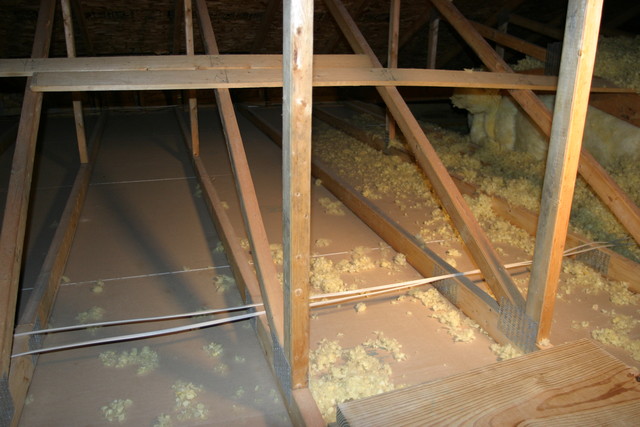 Luckily, I have experience with many computer graphic tools.  This allowed me to visualize my ideas and confirm the alignment of the cables through the trusses.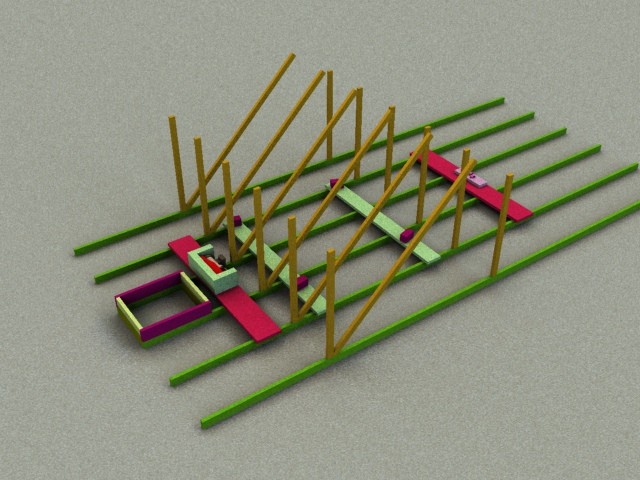 For those who might be curious… these renderings were done with 3d studio max and mental ray rendering engine.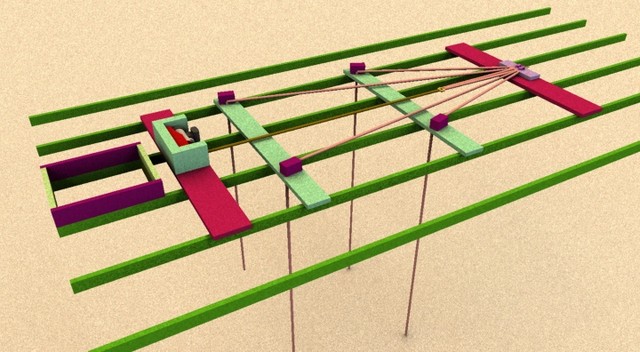 Here you can see the engineered trusses of my Pulte built home.  It's deceptively strong.  Combined with the fact that my trailer is made of aluminum and is only 700 pounds… means my garage ceiling easily carries the load.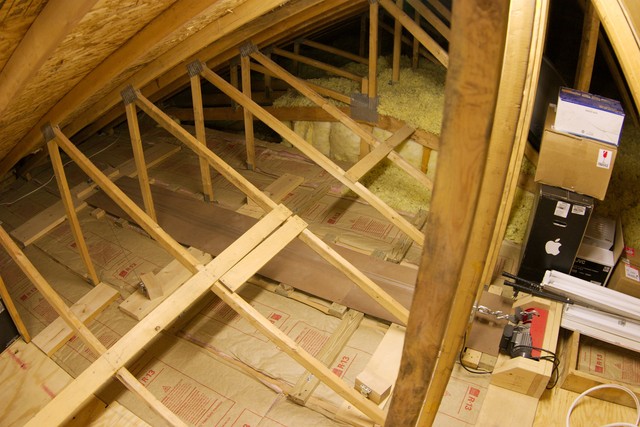 The hoist cost me only $70 at harbor freight.  Unfortunately, as you can hear in the above video, the hoist had some broken plastic parts rattling inside the gearbox.  So I had to exchange it and install a replacement which has worked flawlessly since.  Here you can see the hoist and the beefy structure I built to ensure the it wouldn't come undone from its' mount.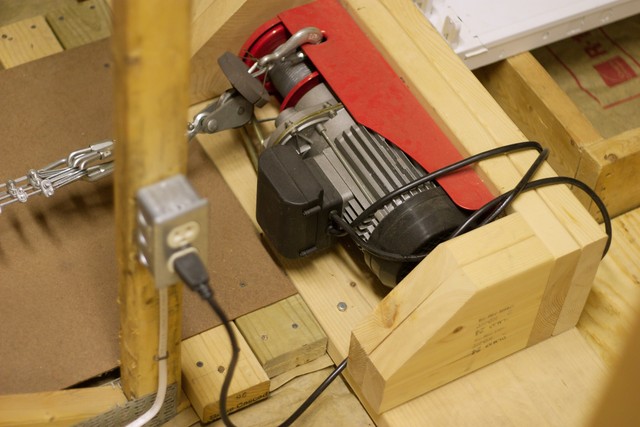 I used lag bolts to hold most major components together.  Here you can see how I redirect the cable downward through the ceiling at each of the 4 points.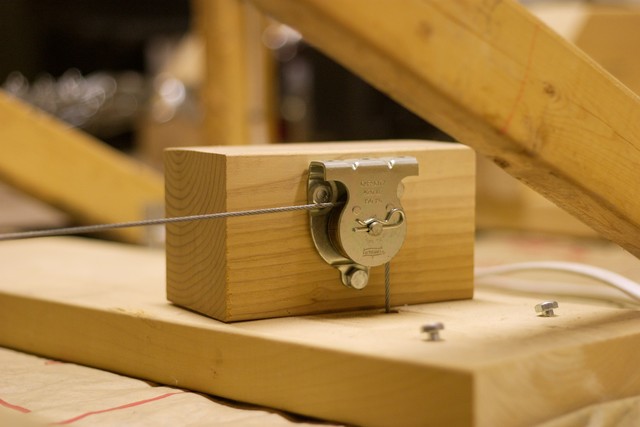 The same pulleys were used to redirect the 4 down points to the single connection at the hoist.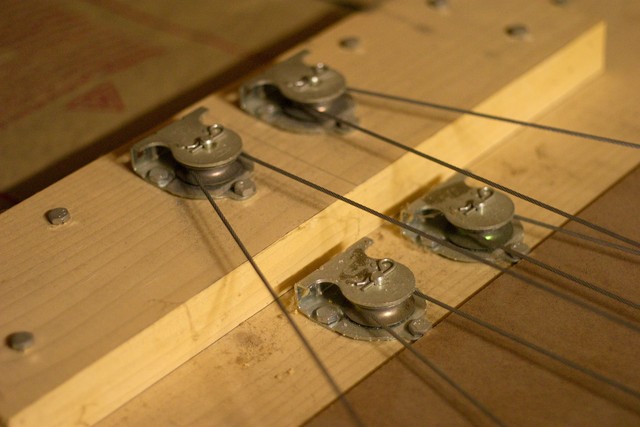 The strongest link in the chain… a single stainless steel ring with a very high weight rating is connected to 4 carabiners and then the 4 cables.  Do you think 3 saddles is overkill for each cable?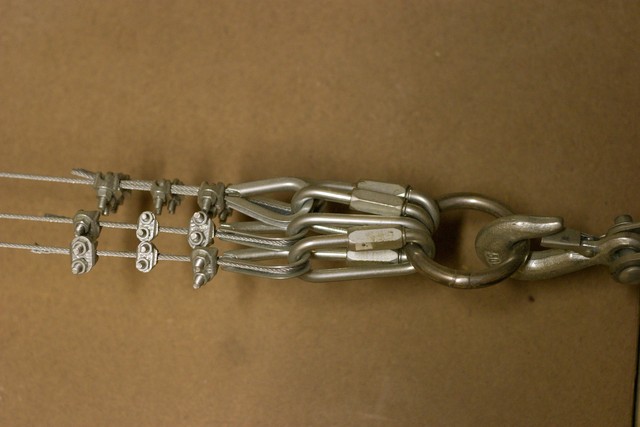 This is one of the 4 drop cables just after coming through the ceiling.  I added some rubber coated lead weights to maintain tension on each line when the trailer is detached.  I did this to reduce the chance a cable would fall off a pulley track.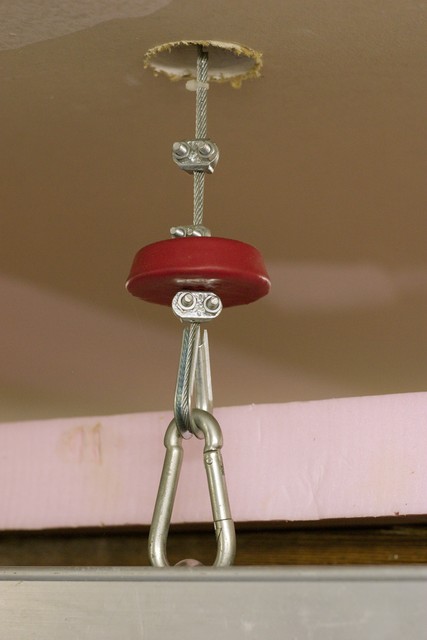 There are 4 additional STATIC lines where I connect the trailer after it has been fully lifted to the ceiling.  Therefore, the trailer has 8 lines connected to it when it is on the ceiling.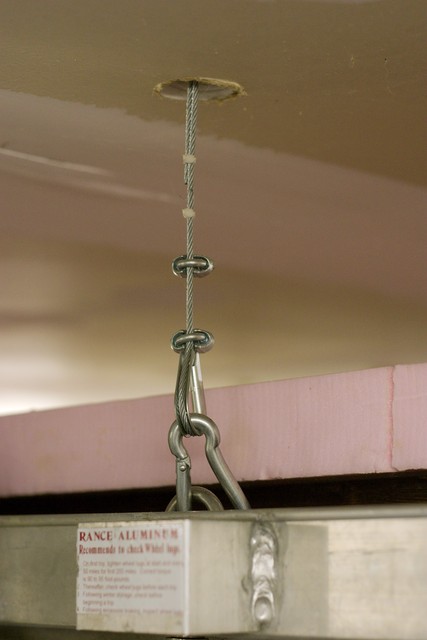 Here you can see 2 static lines and 2 pulley lines on the left side of the trailer.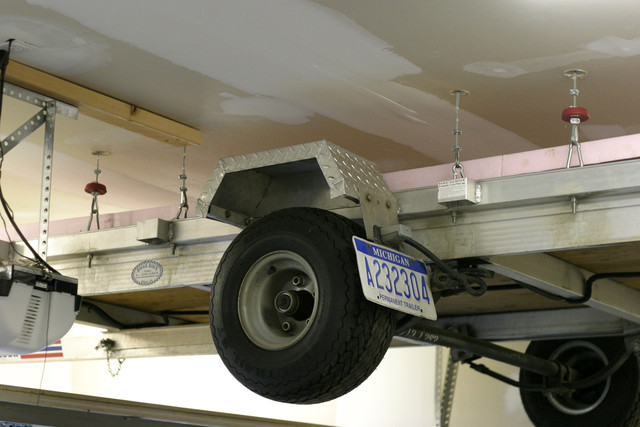 Watch my garage trailer lift video.
Check out some other garage trailer lifts:
http://panofish.net/garage-trailer-lift-3/
http://panofish.net/garage-trailer-lift-4/