French polishing can produce a super beautiful high gloss finish that few other wood finishing techniques can match.
I know my technique isn't really a french polish, but more my own simplified variation.
I am satisfied with my compromise technique as I don't really want to fill the pores and have a high gloss finish.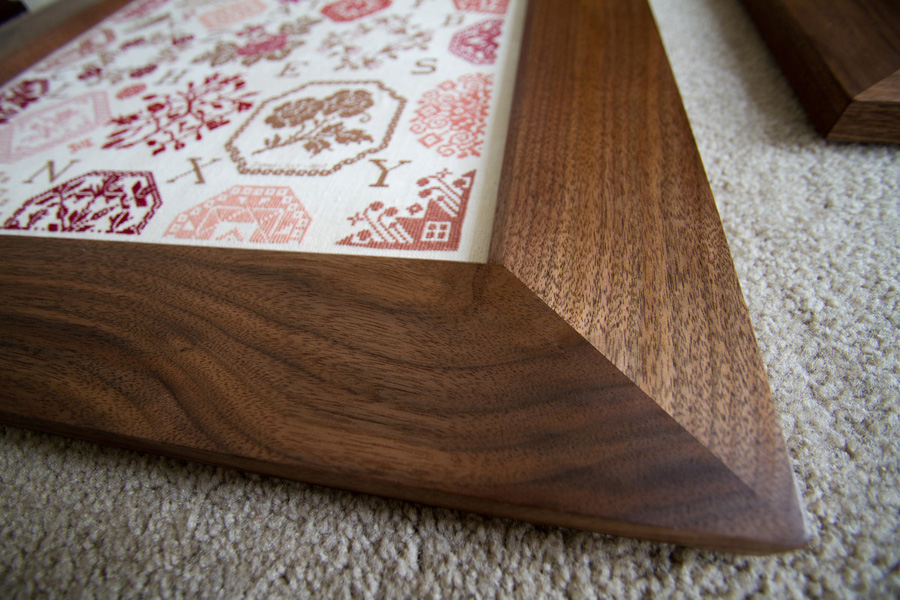 My finish has 2 huge benefits…it's the fastest finish I can do and the best looking finish I can do.
The only downside is durability, but picture frames don't need it.
The finish begs to be touched… silky smooth, yet you can still see and feel the pores of the walnut.
It reminds me of some antique walnut finishes.
I like this shellac finish with fewer coats, which produces a satin look that enhances the natural character and grain of the wood.
I was able to achieve a gorgeous finish on 10 picture frames in 1 afternoon.
It would have taken me several days if I had used my other favorite finish (arm r seal), because of the slower drying time.
Here's what I've learned about this finishing technique so far:
It's important to apply the right amount of olive oil to the pad each time I load it with shellac.
Work fast and know when to stop and reload the pad.
Use a dry clean cloth to softly even the finish just a few seconds after applying
Here's link to a super close up pic showing the open pores of the beautiful walnut.
I'd hate to fill them in and lose all that character. SUPER CLOSE UP PHOTO
What do you recommend to achieve a great french polish finish?