I bought an incra ultra lite dovetailing jig to build some boxes with my router table.
Problem: How to attach my incra jig to my tablesaw/router table without drilling holes.
Solution: Cheap harbor freight locking magnets.
As you can see in the photo… I attached the incra jig to a piece of MDF.
Clamping the board to the table was not practical because the tablesaw fence system made it awkward.
Then I attached 4 magswitches to the MDF.  2 would probably do the job, but I like overkill.
A couple of handles make it easier to pick up.
Now it's quick and easy to install or uninstall the incrajig.
Lock my table saw fence.
Slide the incra jig MDF against the fence.
Lock the 4 mag switches.
Adjust the incra fence as needed and enjoy.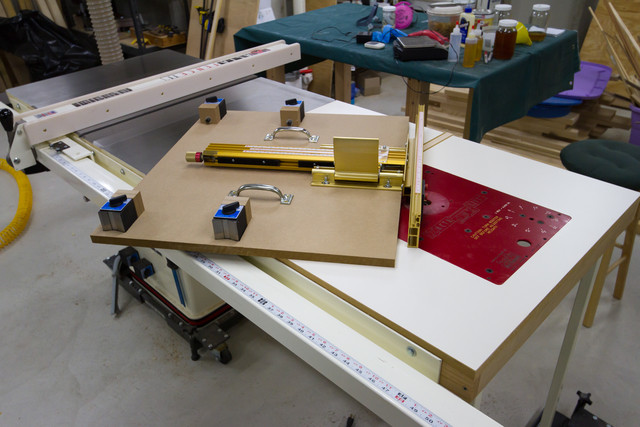 The magnetic switches are typical machinist mag switches from Harbor Freight.. real cheap.
I just had to cut a hole for each through the MDF and bolt them with a small block of wood to the MDF.
Therefore, the magswitches are solidly attached to the MDF which I also bolted my incra jig to.
Because of the holes, each magswitch is in contact with the tablesaw's metal surface.
When I turn on the switch, they lock down with some serious force and make the whole jig immovable.
Actually, I am using the term magswitch generically.
The magswitch company makes some awesome magnetic switches in several sizes and styles for woodworking.
However, in my opinion they are a little pricey, so I used Harbor Freight magnetic bases.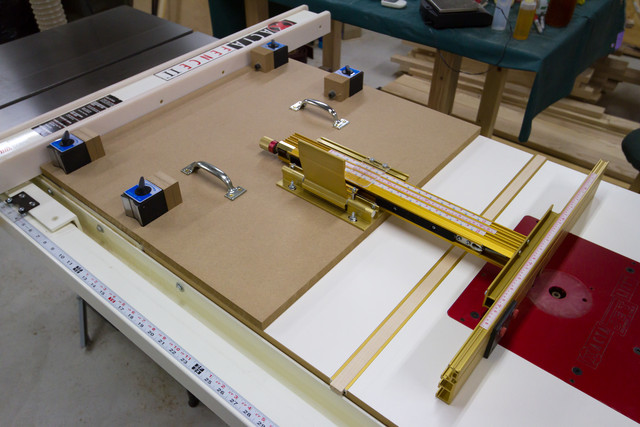 Note: these magnetic bases are traditionally used by machinists to clamp dial gauges to metal surfaces.
Also, the magnetic bases are magnetically switchable on 2 sides.
http://www.harborfreight.com/multipositional-magnetic-base-with-fine-adjustment-5645.html